Introducing new therapies – the forgotten heroes
We often hear of the endpoints, outcomes and p values associated with introducing new therapies for haemophilia. Delegates to this week's EAHAD virtual congress heard about the burden and the benefits that are often hidden behind the numbers.
For those with haemophilia who opt for gene therapy, the reality is often different to what many would expect, said Greta Mulders, Nurse Practitioner at the Erasmus University Medical Center in Rotterdam. Gene therapy remains an investigational therapy, offered as part of an intensive clinical trial. Nurses are part of a team that must ensure patients are fully aware of the commitment required: frequent hospital visits, physical examinations, maintaining a daily symptom diary and monitoring quality of life not just for weeks or months but years. The haemophilia nurse acts as a coach to the patient and must be a good role model in all their interactions – good time keeping, promptly passing on lab results, being prepared to listen and be flexible, and working with the trial monitors to implement the protocol.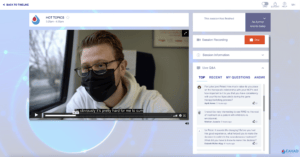 Such effort does not go unrecognised by patients. Luke Pembroke (our very own Communications Officer) went to great lengths to acknowledge his gratitude to the team who had supported him after receiving gene therapy for severe haemophilia B. Luke filmed one of his routine clinic visits, taking us on his train journey through an empty mid-lockdown London to the Royal Free Hospital briefly featuring his trial nurse, Jun. He currently does this once every two weeks but initially it was three times every week. When Luke started his scheduled immunosuppression, he was moved closer to the hospital to reduce his exposure to possible coronavirus infection. He felt like he lived in the clinic room, he said. Taking immunosuppression – and a repeat course when an elevation in liver enzymes was detected – was a very challenging experience. Even though he had been well briefed, Luke admitted to feeling unprepared for the impact of the side effects and emphasised a need to look for the best way to implement and balance these medications during gene therapy. Managing expectations is also important, he emphasised, and he had entered the trial with a deliberately pessimistic view of the outcome, knowing that the treatment might fail and he would return to factor prophylaxis. The whole experience of gene therapy had been far more intense than he had expected, even after going through the lengthy consenting process. Would he do the same again? Absolutely.
As we all wait to see how gene therapy will turn out, it's easy to forget the progress in haemophilia treatment made in recent years. Peter Sinclair, who has haemophilia A with an inhibitor, recounted his experiences from the 1960s to the present day. His first memory of treatment is spending days, weeks and sometimes months in hospital receiving cryoprecipitate for a joint bleed. The outlook for most people improved in the 1970s with the advent of factor VIII concentrate but Peter soon developed an inhibitor and his treatment changed little, causing considerable disruption for his family and in his education and social life. An attempt to induce immunotolerance when he was in his late teens failed but by then he was able to self-treat and the advent of factor eight inhibitor bypassing activity meant that bleeds could be controlled more quickly. Next came recombinant FVIIa, which he used for more severe bleeds. This in turn, opened the way for the biggest change of all. By now he had extensive joint damage and was experiencing significant pain and mobility problems. A replacement hip and knee on his left side was a transformation, soon followed by new joints on his right side. He was then asked to join a clinical trial of emicizumab. The difference it would make soon became apparent. Once he'd had about one major bleed per month but he has had no significant episodes in the five years since his first dose of emicizumab. Where previously he and his family were ever-vigilant of the risk of injury, he no longer has to plan ahead carefully and make sure he access to treatment. Spontaneity has returned to his life and the convenience of a once-weekly subcutaneous injection is a far cry from being tied to frequent intravenous injections. He still feels the damage from years of living with haemophilia but, he hopes, the younger generation can look forward to a future where they won't have to worry about joint bleeds.