Haemnet is a specialist research and communications consultancy working in the bleeding disorders community.
Engage
Working closely with patient communities, healthcare professionals, industry and other key stakeholders, Haemnet delivers mixed methods research to help understand the lived experience of people affected by bleeding disorders. With team members who are experienced qualitative researchers, we have completed numerous investigator-initiated studies and competitively won grants to fund research projects. We also promote international research and collaboration through our European research nurse group.
Communicate
For healthcare professionals, knowledge gained through shared experience promotes expertise in disease management. Haemnet offers opportunities for sharing peer-to-peer disease-based knowledge by providing all HCPs specialising in bleeding disorders care with an outlet for publishing and speaking about their work. In 2014, we established The Journal of Haemophilia Practice, an open-access, peer-reviewed journal, now published for us by Sciendo (De Gruyter). In addition, we produce Haemcast, a monthly podcast.
Empower
Research enhances our knowledge of unmet needs and what needs to change, but it is people that actually bring about that change. Haemnet supports teams and individuals to close the gap between research and practice by facilitating knowledge sharing and reflection on what research means for the realities of everyday practice. We do this through educational opportunities including conferences, courses for professionals, and through action-focused learning and leadership development.
The Team
Our work is made possible by our dedicated team of expert researchers, healthcare professionals, community advocates and communications professionals.
Mike Holland
CEO
Mike was a freelance medical and health care writer/editor, having cut his teeth on a range of academic and news-based publications. He has worked with professional organisations, pharmaceutical and public relations companies, medical education agencies and charities, preparing materials for healthcare professionals, patients and the media.
Dr Kate Khair
Director of Research
Since becoming a state registered nurse Kate has acquired many professional qualifications, including a PhD in health and social care. She worked in the haemophilia treatment centre at Great Ormond Street Hospital for Children from 1991 until 2018. She is well known for championing the nurse's role in the haemophilia multi-disciplinary care team.
Sonia O'Hara
Director of Business Development
Sonia has worked with many different stakeholders including academic partners, industry collaborators, and healthcare professionals in a range of rare diseases. By utilising traditional and adaptive real-world research methodologies, Sonia is dedicated to identifying, exploring and addressing the unmet needs that living with a condition presents. She has extensive experience of patient advocacy governance and lived experience in bleeding disorders.
Luke Pembroke
Director of Community Engagement
Before joining Haemnet Luke worked within healthcare communications across a number of disease areas. He is an experienced public speaker and patient advocate having worked and volunteered extensively with stakeholders across the bleeding disorders community. As a biology graduate, Luke combines scientific knowledge with his experience creating digital content to oversee Haemnet's social media presence.
Kathryn Jenner
Editorial Director
Having previously worked with literary and cultural archives, and as a freelance writer, editor and researcher, Kathryn brings a passion for working with words to Haemnet. She is responsible for The Journal of Haemophilia Practice and supports all Haemnet's publishing activities.
Sam Bristow
Digital Strategy and Compliance Lead
Sam is Digital Strategy and Compliance Lead at Haemnet. His focus is on the development and strategic placement of digital technologies in all areas of Haemnet, in addition to developing our data collection capabilities, in order to enhance our services to clients and partners and ensuring we remain on the straight and narrow with respect to regulatory compliance.
Matthew Hebdon
Programme Director
Bringing almost 20 years of experience in healthcare communications to Haemnet, Matthew has developed both patient awareness campaigns and medical education programs for healthcare professionals across multiple therapeutic areas, including haemophilia.
Simon Fletcher
Principal Researcher
Simon has been nursing for 30 years and is a clinical research nurse at the Oxford University Hospitals NHS Foundation Trust in haemophilia and bleeding disorders and immune haematology. Simon's research interests are in disruptive therapies for rare diseases, individual experience and understanding of their conditions and patient education. He has a Masters degree in Medical Ethics and Law and is undertaking a PhD programme examining the impact and lived experience of gene therapy for haemophilia (the Exigency study).
Haemnet also works closely with a wider team of freelance writers, editors, statisticians, graphic designers, animators, and web developers.
Our Story
Haemnet is a specialist research and communications consultancy working in the bleeding disorders community. Our story stretches back over a decade. Back in 2010, Dr Kate Khair and Mike Holland met at a European haemophilia research meeting on treatment adherence among teenagers. They recognised a need for more communication and knowledge sharing opportunities between healthcare professionals working within bleeding disorders to better understand patient and family experiences. From this, Haemnet was born, providing an online platform for healthcare professionals to ask questions, share knowledge and collaborate. Since then, our work has evolved and broadened across the bleeding disorders community. Our work is focused on really understanding the lives of people with bleeding disorders and their families, communicating that understanding in ways that resonate with different audiences, and using it to empower professionals to bring about positive change in clinical practice.
Charitable work
For some years now, Haemnet has been an enthusiastic supporter of the Haemophilia Foundation of Uganda and its efforts to bring haemophilia care to all corners of Uganda. This association began when, as haemophilia nurse consultant at Great Ormond Street, Kate Khair led a World Federation of Haemophilia twinning programme with Mulago Hospital in Kampala. As a result of that programme, diagnostic capability is now established in Mulago, and WFH sends factor to enable the treatment of bleeds. But Uganda is a huge country and those outside the capital can sometimes travel for days to get the treatment they need, so the challenge is now to ensure that haemophilia care is provided in all regions of the country. Agnes Kisakye of the Haemophilia Foundation of Uganda has been running an awareness raising campaign across the country. Just before the coronavirus pandemic closed everything down, the Haemnet team spent time with Agnes, helping her to run a teaching workshop for healthcare professionals and a patient awareness camp, at which Kate helped to diagnose more patients with bleeding disorders. With a firm diagnosis, these people are now eligible to receive treatment.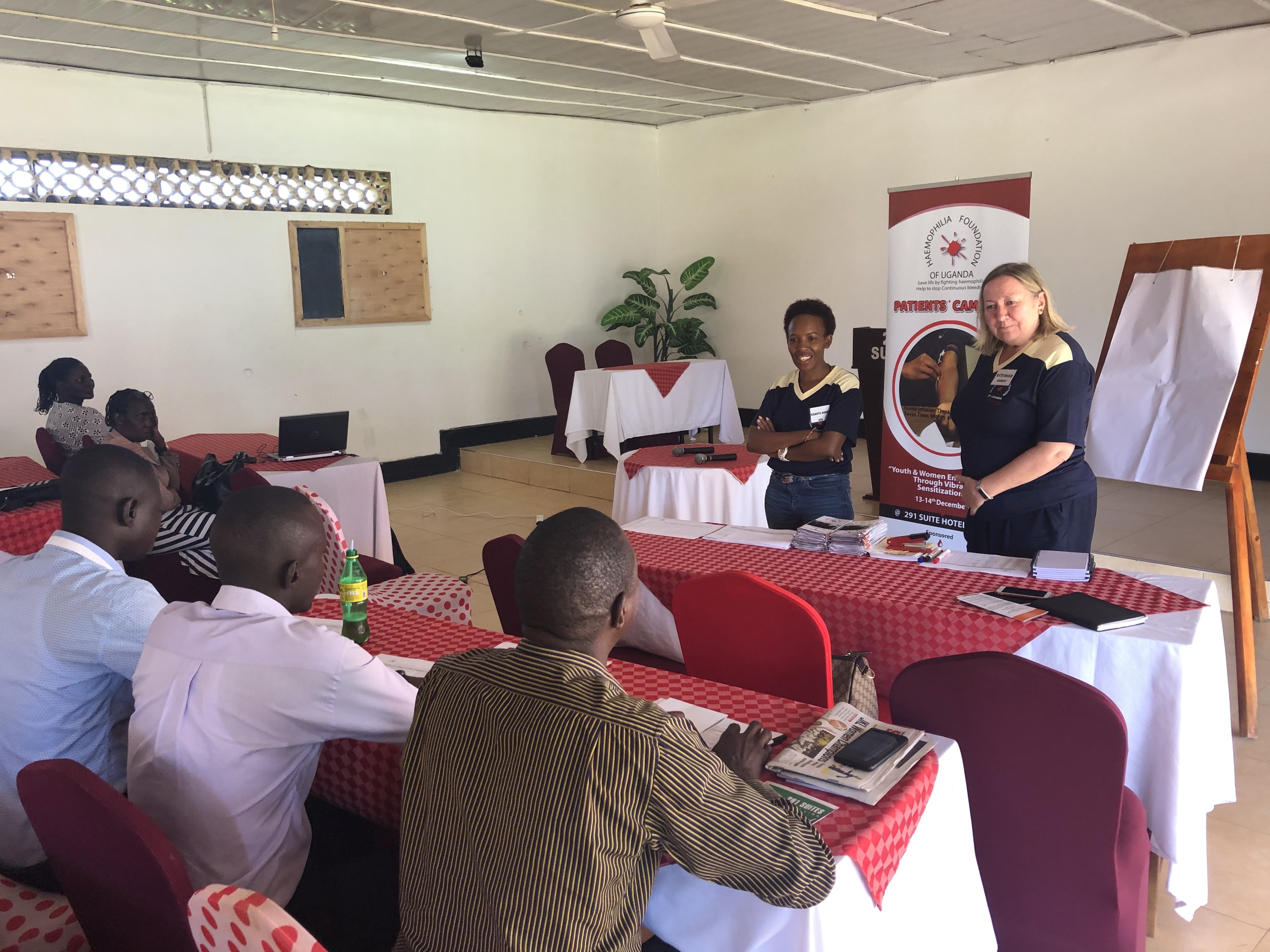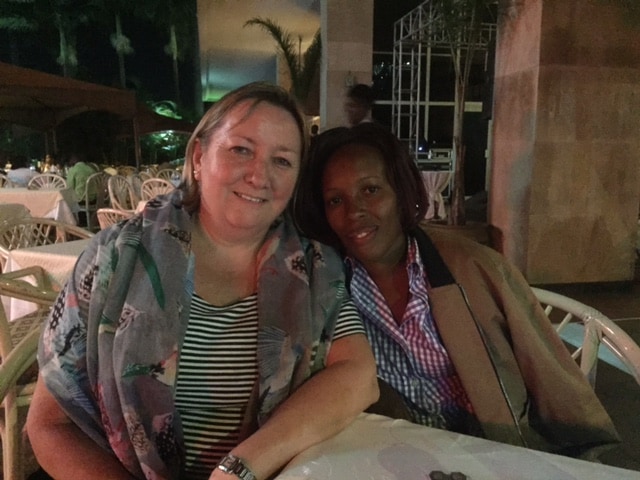 Haemnet is now funding Agnes to do a Masters in Public Health, which she hopes will help her to establish haemophilia care as a national priority. As the world opens up once again following the pandemic, we hope to be able to travel to Uganda again to continue to support Agnes in her work.