February 13, 2018
Kate stepping down from clinical practice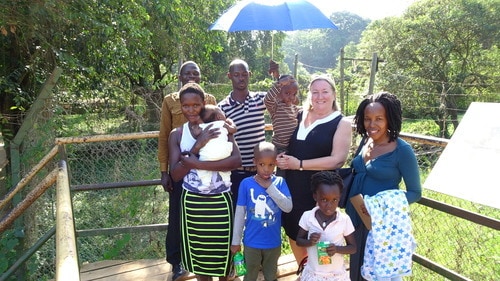 Kate Khair – hailed at last week's EAHAD meeting as the most famous haemophilia nurse in the world – will leave her consultant nurse post at London's Great Ormond Street Hospital (GOSH) in May 2018. But she will still remain very active in the world of haemophilia.
Over the past 27 years, Kate has built up the haemophilia service at GOSH into an internationally renowned centre and has supported numerous families as their affected babies have grown to become productive members of society. She has also:
Played a pivotal role in the development of the haemophilia nurse role through her leadership of the UK Haemophilia Nurses Association and the nurses committee of WFH.
Received a PhD, for her pioneering research into the lived experience of children and adolescents with haemophilia.
Played an active role in the World Federation of Hemophilia outreach programmes, supporting the development of haemophilia care in countries like Uganda (see picture above).
Established Haemnet, a registered charity that supports health and social care professionals to ensure that excellent care becomes an everyday experience for people with bleeding disorders
Launched The Journal of Haemophilia Practice, an open-access journal for all professionals to share their experience of caring for people with bleeding disorders.
Free from her clinical responsibilities, Kate will continue to lead patient experience and outcomes research including the development of several new patient-focused research studies, and will continue her work with WFH. But one of her first priorities will be to oversee an updating of the haemophilia nurse competency framework. "It's more than 10 years since we developed the existing framework. It needs updating to reflect the way that nurses now practice," said Kate. "The changing treatment landscape offers enormous opportunities for haemophilia nurses to lead the development of new ways of caring and advocating for people with haemophilia and other bleeding disorders."
Haemnet provides education, undertakes research and drives service innovation. It is best known for running the annual HNA meetings, and the Contemporary Care of People with Bleeding Disorders residential training course. But in the past two years 14 allied care professionals have been through the Haemnet ASPIRE leadership development programme, designed to help nurses, physios, psychologists and social workers all find their voice within the multidisciplinary care teams. The hope is that they will all follow Kate and lead service change to the benefit of patients.
"The passion Kate brings to her clinical role will be sorely missed by her patients and their families at GOS," said Cathy Harrison, Advanced Nurse Practitioner at the Royal Hallamshire Hospital, Sheffield. "It is good to know she will continue to support aspiring leaders within the haemophilia community."