Rewind, remodel, and celebrate what we've achieved
Think back to the last time we cancelled the annual HNA meeting. That was back in the autumn of 2018, those heady days before the media knew how to use terms like "underlying health issues" and "PPE". As a result of the World Federation of Hemophilia congress in Glasgow we held regional meetings in Liverpool, Bristol and London.
Fast forward to April 2020 and the rapid global spread of Sars-CoV-2, which meant that we (and subsequently WFH and ISTH) cancelled our annual meeting. With nurses on our TV screens every day and lives changed forever, the WHO Year of the Nurse and Midwife has clearly not panned out as expected. Yet haemophilia nurses still have much to celebrate.
Nurses play the pivotal role in the coordination and delivery of safe and effective care for people affected by bleeding disorders. To do this, we need to develop a wide and varied range of skills. In view of the 2017 recommendations from Health Education England, and the need to assess the advanced skills and knowledge of our experienced nursing members, we recognised that the most recent competency framework (2014), originally created in 1994, required an update.
We are delighted to share a new piece of work that began in those regional meetings when we discussed and deconstructed the HNA Competency Framework and attempted to reframe it in the light of contemporary practice. The 2020 Haemophilia Nurses Association Competency Framework is published this week in Haemophilia and is free to download here.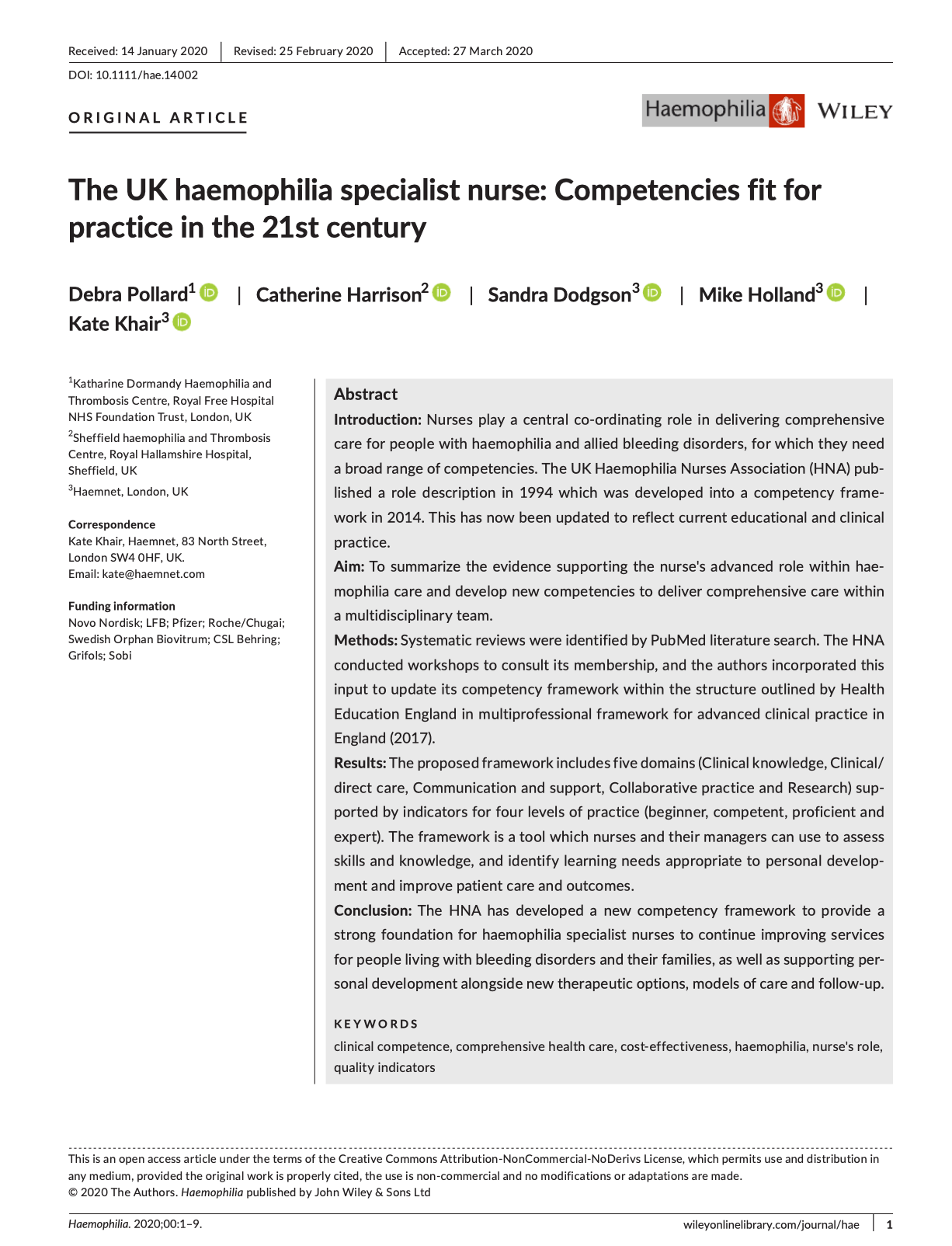 We feel this new framework reflects the current and future education, development and clinical practice needs of our specialist nursing workforce. Supporting the wider NHS picture of the Five Year Forward Plan, this framework will allow services and members to ensure the right number of nurses are in the right place with the right skills, values and behaviours.
One of those core skills is adaptability. We are key to adapting services to best suit users' needs and developing practice to meet the evolving needs of people with complex needs. So many haemophilia nurses are demonstrating their adaptability through this pandemic. Some are now adapting to working on wards and supporting the wider NHS. Another key role for specialist nurses is to ensure our patients can live safely in the community with their long-term conditions. With skeleton bleeding disorder services running in much of the UK, some haemophilia nurses are working with patients, helping them to adapt to new service configurations and ensuring they are able to manage at home.
This is all possible through your hard work, passion, education, skills and knowledge. So while the Year of the Nurse and Midwife may be on hold for now, we should all be immensely proud of the roles we undertake now and in the future.
In Florence Nightingale's bicentennial year, Haemnet will host a Zoom meeting and quiz on Tuesday 12 May (her birthday – bring your own cake). We hope you will join us to celebrate what would have been her birthday. More details available soon.
Stay safe.