The patient gene therapy journey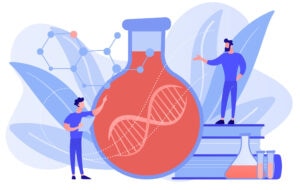 Gene therapies for both haemophilia A and B are currently in development. Although this is ongoing, the first gene therapy for haemophilia A has been given conditional market authorisation in Europe – which means it could be more widely available as a treatment option soon.
Gene therapies for haemophilia aim to replace the faulty, disease-causing FVIII or FIX gene with a more functional copy. The hope is that they might eliminate the need for people with haemophilia to use factor replacement therapies (or other prophylaxis treatments). But there's still a lot of uncertainty. Whilst gene therapies may be encouraging and exciting, as Elsa Aradom and Keith Gomez explain in their article 'The patient gene therapy journey: Findings from qualitative interviews with trial participants at one UK haemophilia centre', they can also present significant challenges for people with haemophilia.
Real-world experience
Elsa and Keith set out to understand more about the expectations and concerns that people with haemophilia have for gene therapies, what their perceptions of gene therapies are, and what their motivations for considering gene therapies might be. They interviewed people with haemophilia who had taken part in gene therapy clinical trials about their experiences.
It is a fascinating study and reveals some of the 'real-world' lived experiences of undergoing a gene therapy journey. Gene therapies generate excitable headlines in news media, with little detail about what it is like to receive gene therapy in practice, and the impact on daily life the treatment can have. For example, several of Elsa and Keith's participants discuss how having to abstain from alcohol for three months during follow-up impacted their social lives. Others mention that the family planning requirements of the follow-up regime put pressure on their relationships. However, participants also talk about the transformational aspects of gene therapy − for example, the sense of freedom that comes when you don't need to worry about bleeding and injections, and the opportunities that 'learning to live without haemophilia' provides.
Education and understanding
Interestingly and importantly, the people with haemophilia Elsa and Keith interviewed had generally relied on their treatment centre as the main source of information about gene therapy. Few had looked elsewhere for information to support their decisions, and those who had reflect that it was hard to find the right information, and that very little was suitable for patients. This is a huge problem facing our community, and clearly an important priority for haemophilia patient groups around the world as haemophilia gene therapies start to be licensed.
Elsa and Keith conclude that there is more that can be done to help people with haemophilia prepare as gene therapy moves into the mainstream. They call for more education for everyone involved in haemophilia healthcare so that all members of the team are equipped to help people with haemophilia understand decisions about gene therapy. Understanding gene therapy should not be limited to just haematologists and research teams.
Of course, all of this requires that people with haemophilia themselves have the knowledge and confidence to ask questions about gene therapy. As Elsa and Keith suggest, undertaking gene therapy is a big decision that should not be taken lightly, and requires clear education and support.
Education is a vital priority as we move into an era of gene therapies for people with haemophilia – these efforts need to include people with haemophilia too.
Further reading
Aradom E, Gomez K. The patient gene therapy journey: Findings from qualitative interviews with trial participants at one UK haemophilia centre. J Haem Pract 2022; 9(1): 32-44. doi: 10.17225/jhp00174
About the author
Rich Gorman lives with severe haemophilia A. He works as a researcher at Brighton and Sussex Medical School.
Image: Shutterstock/Net Vector