Personal Resilience – video series
Everyone who works in healthcare knows that challenging events and behaviours are part and parcel of the everyday experience. We all have days when these can get too much.
A few years ago at the HNA conference we asked people to give us examples of how they had bounced back from difficult or stressful situations at work. As you can see in the graphic, not everyone turns to the gin bottle.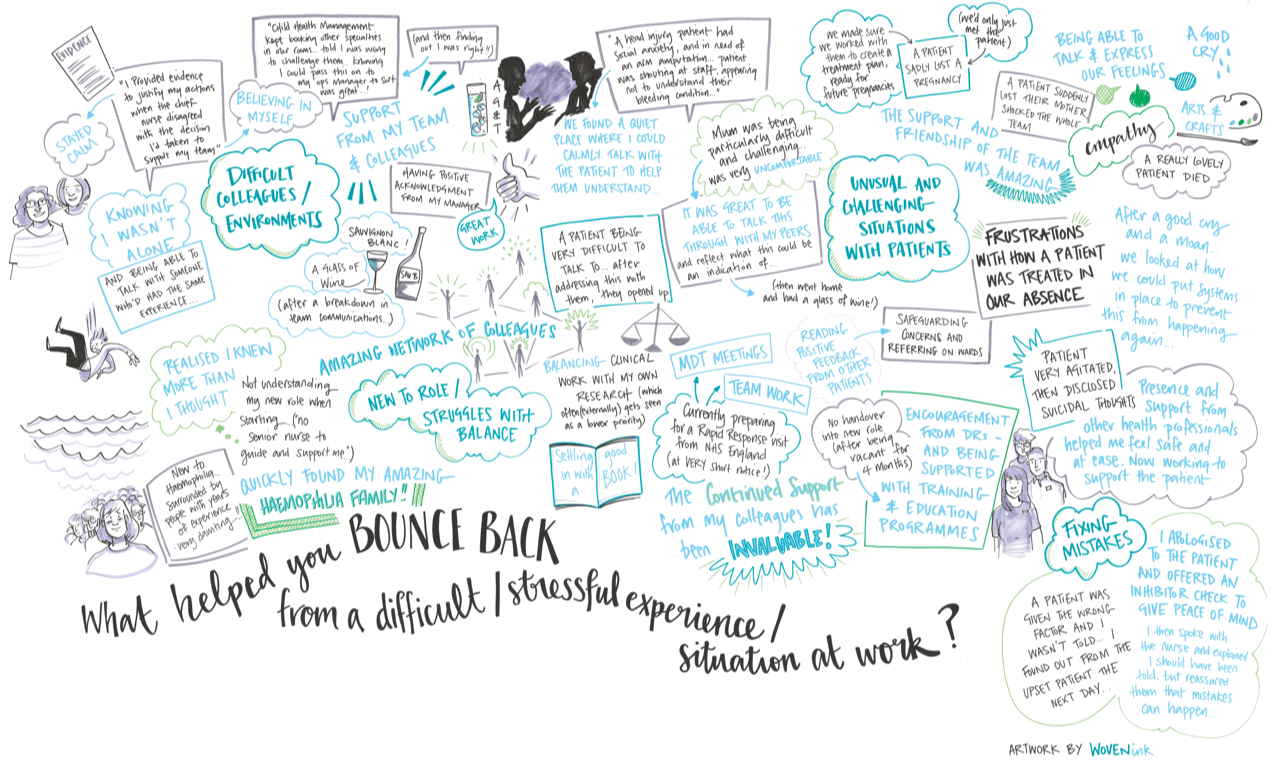 But what is it that makes some people more able to bounce back?
Well, it all comes down to resilience – the capacity to maintain personal control and robust attitudes in the face of challenging events and behaviours.
The past few months have placed unprecedented demands on people both at work and in their everyday lives. We are all responding differently and our resilience can fluctuate. It can be affected by stress, diet, sleep, and many other things and has a role to play in our physical and mental wellbeing. Finding approaches that work for each of us is important.
Corinna Hudson is a psychotherapist who provides training for Public Health England (among others) around confidence, resilience and mental wellbeing. Thanks to a grant from Sobi we were able to bring Corinna together with Amy Story, from Floating Kite Creative, to create a series of animated webinars that look at personal resilience, what it is, what helps and hinders it, and how we can build on our existing capacity. The videos are designed to help healthcare professionals to share some ideas and support around building on the resilience that each of you already have.
The series starts with an introductory video that provides an overview and introduces the Robertson Cooper model of resilience. In this video, there is also a link to a questionnaire, that will provide you with a short report on what is helping, hindering or is having a neutral effect on your resilience at the moment.
The further four videos cover confidence, social support, adaptability and purpose. They can be watched in any order and each includes some short exercises that you can do either by yourself or with a friend.
We hope you find the content helpful during the coming months and beyond.
Introduction to Personal Resilience
Confidence In Our Competence
Adaptability
Supportive Connections
Purposefulness
Download PDF