The HNA Competency Framework
The role of the nurse continues to develop, probably at greater speed than ever before. In many countries, nurses are able to manage whole episodes of patient care from diagnosis, through admission, requesting investigations, prescribing treatments and evaluating outcomes. While nurses can and do, do most things, what is important is that they are appropriately trained and continue to develop skills, that are relevant both to them and the patients for whom they care. Assessing this ability, or competence, requires knowledge and skills in itself. This article sets out the process of defining competence in haemophilia nursing. Some of these competencies are transferable from other areas of nursing, others are haemophilia-specific. Together they provide a personal development framework for nurses who work within haemophilia as part or all of their role.
Nurses play a pivotal role in providing comprehensive care to people with haemophilia and related disorders and coordinating care with other members of the multi- disciplinary team, both within hospitals, the community and the patient's own homes. Clinical nurse specialists in haemophilia and related disorders are advanced practitioners with extensive clinical knowledge and expertise in this specialist field. Nurses use their clinical, communication and interpersonal skills to identify the needs of people with haemophilia and related disorders and to provide care that recognises social, cultural and spiritual differences throughout a person's life. Advanced nursing roles within haemophilia in the UK include advanced nurse practitioners; a role recognized by attaining a masters level in advancing nursing practice at accredited universities, clinical nurse specialists and consultant nurses. Clinical nurse specialists are recognized as having five principal functions that encompass clinical practice, advocacy, advice, education and research [Manley, 1997; MacDonald et al, 2006]. The key components of the haemophilia nurse consultant role are expert practice, leadership and consultancy, education and training and research and evaluation. To fulfill these roles nurses must be confident and competent.
Competency is the combination of attributes, knowledge and skills that underpin professional practice [Fish and Purr, 1991]. Development of competencies should help individuals to continually improve their performance and to work more effectively [Whiddett and Hollyforde, 1999]. A 'competency framework' is a structure that sets out and defines each individual competency (such as problem-solving or people management) thought to be central to effective performance and therefore required of individuals and nursing teams.
Competency-based approaches have been widely advocated both to ensure fitness for practice [UKCC, 1999; Burke and Barker, 2012] and to promote professional and personal development among specialist nurses in the United Kingdom (UK) [Benner, 1984]. As a key part of Agenda for Change – a UK National Health Service (NHS) initiative introduced in 2004 [DoH, 2004], including annual appraisal and personal development plans, linked to pay – the NHS developed a Knowledge and Skills Framework (KSF) under which all nursing staff should:
have clear and consistent development objectives
be helped to develop in such a way that they can apply the knowledge and skills appropriate to their level of responsibility
be helped to identify and develop knowledge and skills that will support their career progression.
In order to help nurses fulfil their role, in 2002 members of the UK's Haemophilia Nurses' Association (HNA) devised a paper-based, hand-held core competency framework that defined differing levels of haemophilia nursing intervention in key aspects of care. This could be used for individual haemophilia nurses to inform personal development plans as well as teams of nurses in haemophilia centres to develop strategic visions for future service provision. This was subsequently revised and expanded into an electronic tool, stored on a secure website (www.haemnet.com) supported by the HNA. This paper describes the process by which the framework was developed and summarises the core attributes expected of this group of highly specialized nurses.
Analysis
Under the auspices of the HNA, a working party of experienced nurses was convened, which reflected the plurality of experience, specialism, age focus and geographical location of haemophilia nurses in the UK. The group sought to:
Identify an agreed theoretical premise of competency
Describe different aspects of haemophilia nurse intervention
Map differing levels of expertise within these aspects using descriptors drawn from nursing theory.
Benner introduced the concept that nurses develop skills and understanding of patient care over time through a sound educational base as well as experience [Benner, 1984]. The HNA focus group assessed clinical nursing practice using a variation of this system based on five practice domains:
Knowledge
Action
Problem solving /management decision making
Interpersonal communication
Self-management/reflection.
These were measured against four levels of practice and academic indicators derived from Benner [1984]:
Novice/advanced beginner (Level 1 certificate)
Competent (Level 2 diploma)
Proficient (Level 3 degree)
Expert/specialist nurse (Masters Level and beyond).
The working party considered key events along a lifelong patient pathway and grouped these into aspects of practice. These areas were then collated into five core frames of practice (clinical skills, evidence-based practice, communication, supportive care, and social care). Each of these frames was to be considered by individual nurses in terms of their achieved levels of practice. These descriptors were mapped onto an assessment grid that provided individual nurses with a visual representation of their achieved competency as well as their required areas of development.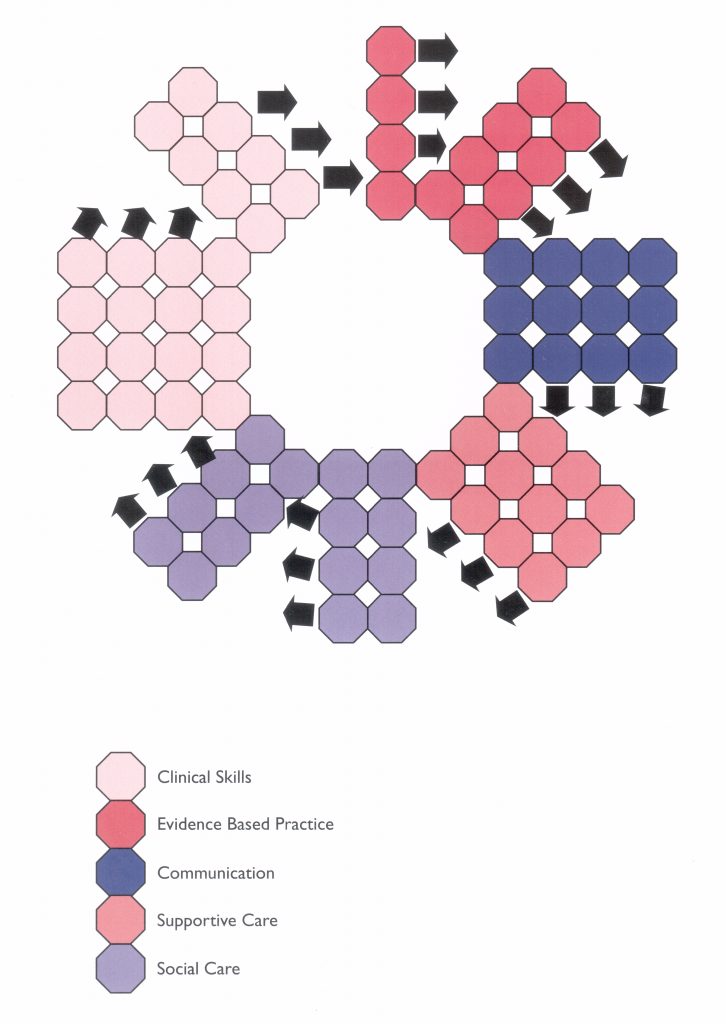 The framework was designed to be used for:
Self-appraisal, to identify learning needs.
Within the personal review process to help staff development.
Strategically, to identify team skills mix.
For quality assurance and audit purposes (locally or nationally) to define a requisite nursing profile for different types of haemophilia centre (haemophilia centre vs comprehensive care centre etc).
In 2009 the framework was revised to reflect the growing role of haemophilia clinical nurse specialists and consultant nurses [Gregorowski et al, 2013]. The new competency framework includes additional knowledge domains in six 'satellite competencies': children and young people, inhibitor management/care, clinical care, leadership skills, genetic knowledge and skills, and women's issues.
Results and discussion
The HNA competency framework currently consists of five core domains (communication, research, education, support and treatment) and an additional six "satellite" domains (women, children, leadership, inhibitors, genetics and physiotherapy). Each level of the framework cites key references and links to the Department of Health Knowledge Skills Framework. The detail of the framework is set out in the LINKED PAGES. In addition, a downloadable version made as a writable PDF is available HERE.
The framework allows nurses, over time, to:
Assess their own level of professional development
Identify the areas in which they need to develop their skills further track their "journey" to full competence
The competency framework establishes a baseline educational and practical skills forum for nurses new to haemophilia, which allows progression through personalized development and assessment, to competence at all levels of haemophilia nursing. Many aspects of the framework include transferrable skills such as communication skills, so even 'novice' haemophilia nurses are part way along the road to haemophilia competence.
This tool can be used as part of both formal (manager appraisal, objective setting etc) and informal (own assessment) development identifying areas for further education and learning. Although the UK HNA developed this tool, based on UK nurse training/education models there is no reason why it cannot be applied, perhaps in adapted forms, globally. In this journal, Schrjivers et al suggest that European haemophilia nursing curricula and European principles for haemophilia nursing care should be developed [Schrijvers et al, 2014]. Modification of the competency framework, in line with local/national nurse education/legal programmes would go along way towards this. As well as continuing to develop shared practice across the EU.
Conclusion
Haemophilia nursing is a complex art; weaving knowledge and skills with scientific doctrine to promote evidence based care, advocacy and self-management skills for people with bleeding disorders. Whilst many legal standards impact upon the role of the nurse across countries, we share more than we realize. The principles of nursing care for patients with bleeding disorders are the same regardless of your language; we care, support, listen, educate, advocate, research and publish. Sharing best practice with fellow nurses impacts beyond the borders of our own hospitals/treatment centres and countries leading to empowered nursing communities globally.
References
Manley K. A conceptual framework for advanced practice: an action research project operationalizing an advanced practitioner/ consultant nurse role. J Clin Nurs 1997; 6: 179-90.
Macdonald JA, Herbert R, Thibeault C. Advanced practice nursing: unification through a common identity. J Prof Nurs 2006; 22: 172-9.
Fish D, Purr B. An Evaluation of Practice-Based Learning in Continuing Professional Education in Nursing , Midwifery and Health Visiting. London: ENB, 1991.
Whiddett S, Hollyforde, S. The Competencies Handbook. Institute of Personnel and Development, 1999.
United Kingdom Central Council for Nursing, Midwifery and Health Visiting. Fitness for Practice: The UKCC Commission for Nursing and Midwifery Education. UKCC, 1999.
Burke S, Barker C, Marshall D. Developing education tailored to clinical roles: genetics education for haemophilia nurses Nurse Educ Today 2012; 32(1): 52V6.
Department of Health. The NHS Knowledge and Skills Framework DNHS KSFR and the Development Review Process. London, DoH, October 2004.
Benner P. From Novice to Expert: Excellence and Power in Clinical Nursing Practice. Menlo Park, CA: AddisonVWesley, 1984.
Gregorowski A, Brennan E, Chapman S, Gibson F, Khair K, May L, Lindsay-Waters A. An action research study to explore the nature of the nurse consultant role in the care of children and young people. J Clin Nurs 2013; 22(1V2): 201V10.
Schrijvers LH, Bedford M, Elfvinge P, et al. On behalf of the EAHAD nurses commi rse. J Haem Pract 2014; 1(1): 24-27.