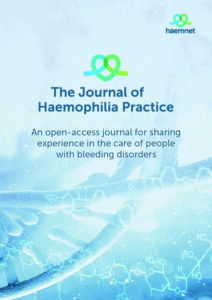 In 2014, Haemnet launched The Journal of Haemophilia Practice. This is an international, open-access, peer-reviewed journal that accepts papers from all members of the multidisciplinary bleeding disorders care team.
The aim of the journal is to offer all members of the haemophilia multidisciplinary team a platform for publication of work that is often not accepted by the more established journals. As such, our principal focus has been to encourage case reports, small series, qualitative studies and other such work by nurses and physios. However, any manuscript that is relevant to current haemophilia practice will be considered for publication by our editorial review team.
The journal is now published for us by Sciendo, part of the De Gruyters group, and with their marketing expertise we hope to become listed on PubMed in the near future.
Publication of the journal is possible thanks to the support we receive from our partners in the pharmaceutical industry, who provide support on an annual or three-yearly basis, with a corporate donation. This support has allowed us to continue to publish and to promote the journal within the community without needing to secure advertising or turn to a purely "pay-for-publication" strategy.
This journal is currently sponsored by: