Race Around The World #RATW campaign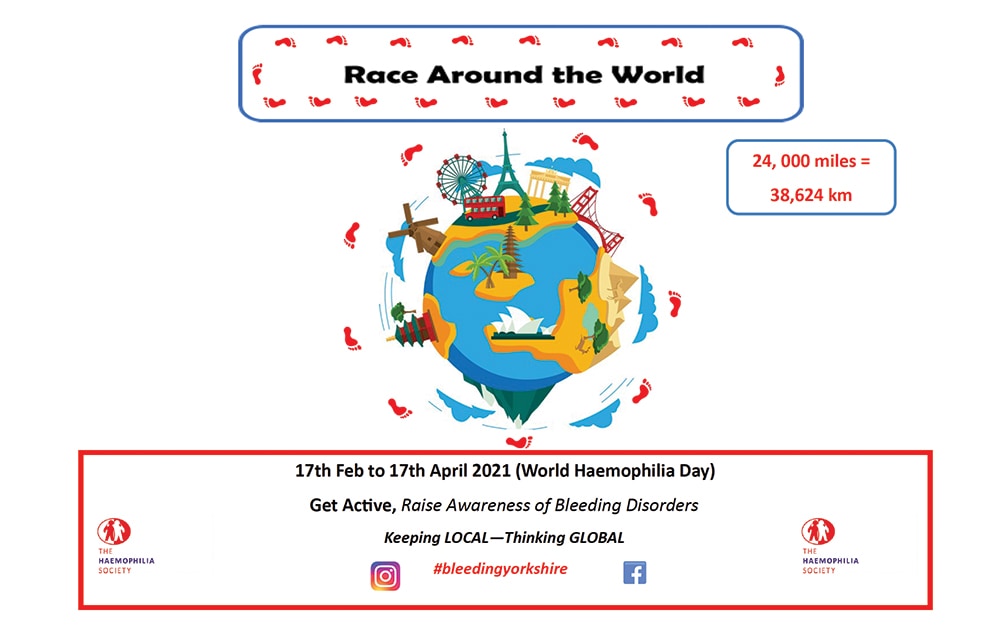 What started as a local attempt to re-invigorate the Yorkshire bleeding disorders community has ended up as an epic worldwide event.
Members of the Yorkshire bleeding disorders community came together to discuss how best to renew the group and so re-establish the local support that it has historically provided. After a single meeting at which we discussed how to raise some funds and have some fun, a plan to Race Around The World (#RATW) was hatched!
The Yorkshire group's aim is to raise awareness of bleeding disorders, develop those local support networks that play a vital role, generate funds for future events in addition to funding an ultrasound unit for the children's service to improve joint health and knowledge. Last but by no means least we wanted to empower folk to get active – particularly after an incredibly difficult 2020.
In line with government guidelines, we are Keeping it Local but Thinking Global with our Race Around The World campaign (#RATW) and #bleedingyorkshire and its supporters hope to complete the whole 24,000 miles in just 60 days finishing on World Haemophilia Day – 17th April 2021.
As we make our way around the world, we hope to gain encouragement from members of the global bleeding disorders community cheering us along as we virtually travel through their countries.
We want to encourage everyone to join in and have some fun with us. You can do this by: