Visualising haemophilia gene therapy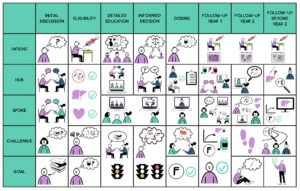 With the recent licensing of haemophilia gene therapy, it's no surprise that it was a hot topic at the EAHAD congress in Manchester last month. I heard some interesting comments about the dosing day, and how rather simple the day can seem. With the right staff and setting requirements, it's true that gene therapy is easy to give. But the processes that make up the patient journey before, during and after dosing are many and complex. For this reason EAHAD and the EHC recommend the hub and spoke model for haemophilia gene therapy.1
Hub and spoke
As a person with haemophilia, my local treatment centre will always be my go-to place for haemophilia-related care and advice. I have a relationship with the care team there that has built up over years – they know me and I trust them. When I need to see a different kind of expert as part of my care, though, it's in my best interests to see them. Sometimes, for things like physiotherapy and orthopaedics, this will be within the centre itself. Sometimes, for example, for hepatology, cardiology or gynaecology, it will be at another location. The aim for both myself and my team is always to ensure that the care I receive is appropriate. This is no different when we think about gene therapy and it is why the hub and spoke model is so important for haemophilia gene therapy.
If I'm considering gene therapy, I want to know that the conversations I have, the tests I agree to, the information and education I receive, the decision-making support, and everything that's involved in my follow-up happens with the right people, at the right time. The health care professionals (HCPs) who work in haemophilia care need to have enough knowledge about gene therapy to be able to educate, support and provide follow-up care for their patients, wherever they're based. We need to see a broadening of education among HCPs to support this. However, I think we also need to recognise that some of the expertise and specialised testing required during the gene therapy journey is better provided through a centralised hub. That way, we can support access to a consistently improving level of care for everyone who chooses to have gene therapy.
Of course, the hub and spoke model relies on effective connections. Accurate and timely recording and sharing of data is essential, as is the seamless communication of patient information from hub to spoke and vice versa. We need robust structures in place to support this. We also need to think about how individuals who are interested in having gene therapy navigate their way through the hub and spoke, which is recommended as part of the planned access in Europe through the European Medicines Agency.
Mapping and navigation
Patients who choose to embark on a haemophilia gene therapy journey (partly or in its entirety) need to understand what will happen, where it will happen and with whom. As highlighted above, some of these elements may happen with a team that is new or unknown and building trust in this context is essential. We talk a lot about pathways in health care; we rarely think about what those pathways look like. Where care pathways are complex, and to generally aid understanding, visualisation perhaps holds the key.
The map presented in the paper 'The journey of gene therapy in haemophilia – putting the patient at the centre of the hub and spoke model' (and pictured above) is designed to show the patient pathway through haemophilia gene therapy in a simple, broadly understandable way. Thinking about the patient first and foremost, it plots the key elements of the gene therapy journey, identifying the points where hub or other coordinating services could be involved. It highlights the types and timings of communication between hub and spoke that ensure the process is a co-ordinated effort right from the start. This includes the sharing of test results and decisions, but crucially also involves the sharing of broader conversations that need to happen between HCPs (in both the hub and the spoke) and with the patient. A simple, consistent use of colour enables the patient to identify themselves and their hub and spoke teams throughout the journey.
Having the ability to break the gene therapy journey down into its different sections is also important, and something we've considered in the visual element of the paper. Being able to think about the haemophilia gene therapy journey one step at a time is important in supporting understanding and helps to avoid overwhelming the patient with too much information too soon. Breaking it down visually, piece by piece, enables a focus on the sections that are most relevant at any given time. It may also be pertinent to consider how far individual learning on the gene therapy journey should go before eligibility is established. There is a case for not going into the finer details before they know they are eligible – but this is, of course, a choice for the patient.
Enabling understanding
Structured in the right way, the hub and spoke model can, I believe, help enable better outcomes for people with haemophilia across the board. For gene therapy, I think it's essential and helps manage some of the many variables involved. It remains a complex journey, though, and as part of supporting patients through this care pathway we must ensure that there are means and methods available to enable their understanding of what it means to have gene therapy. Tools based on mapping and visualisation should form a core part of this. With so much change afoot in the haemophilia treatment landscape and beyond, there is scope for these kinds of tools to be used much more.
References
1. Miesbach W, Chowdary P, Coppens M, et al. Delivery of AAV-based gene therapy through haemophilia centres – A need for re-evaluation of infrastructure and comprehensive care: A joint publication of EAHAD and the EHC. Haemophilia 2021; 27(6): 967-973. doi: 10.1111/hae.14420.
Further reading
Noone D, Astermark J, O'Mahony B, et al. The journey of gene therapy in haemophilia – putting the patient at the centre of the hub and spoke model. J Haem Pract 2022; 9(1): 156-166. doi: 10.2478/jhp-2022-0021
The EHC Think Tank has been discussing the hub and spoke model, its role in gene therapy, and its potential for a much broader improvement in overall care for people with haemophilia of all severities:
Bok A, Noone D, Skouw-Rasmussen N; EHC Think Tank. Key challenged for hub and spoke models of care – A report from the 1st workshop of the EHC Think Tank on Hub and Spoke Treatment Models. J Haem Pract 2022; 9(1): 20-26. doi: 10.2478/jhp-2022-0003
Bok A, Noone D, Skouw-Rasmussen N; EHC Think Tank. Short- and longer-term goals for change – A report from the 2nd workshops of the EHC Think Tank Workstreams on Registries, the Hub and Spoke Model and Patient Agency. J Haem Pract 2023; 10(1): 1-10. doi: 10.2478/jhp-2023-0001
About the author
Declan Noone is the current President of the European Haemophilia Consortium and has formerly worked with the Irish Haemophilia Society. Both a health economist and medical mechanical engineer by training, he currently sits on the EMA PRAC Committee, the Irish National Tender Procurement Board, and the WFH Coagulation Product Safety, Supply, and Access Committee.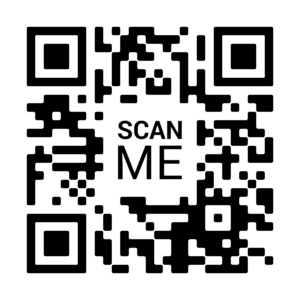 Scan the QR Code to follow us on Social Media
Image: Noone et al. J Haem Pract 2022; 9(1): 156-166. doi: 10.2478/jhp-2022-0021