Support for haemophilia care professionals through the pandemic
The HNA was formed in the early 1980s to provide support for haemophilia nurses in difficult times. The COVID-19 pandemic means that once again we are living through challenging times. It has placed unprecedented demands on staff working in haemophilia care. Many professionals are now reviewing patients either by telephone or through web-based communications platforms. Some are working from home; others have been redeployed to work on the wards.
All of these new ways of working bring different challenges and stresses. It is natural for us to struggle and feel anxious. So it is important that we care for ourselves, and those around us. That means supporting our mental and physical health. We are all different, and finding the approaches that work for each of us is important, this may mean asking for help.
Haemnet has developed a list of online resources that we think you may find helpful in caring for yourselves and others as you respond to, and deal with, the consequences of the pandemic. These links are to external sites maintained by other public and private organisations. We do not control or guarantee the accuracy, relevance, timeliness or completeness of the information they offer. It's not a definitive listing: if you have identified a resource that you think would be helpful to other professionals please let us know and we will add it to this page.
Psychological support for NHS staff
NHS England has set up a mental health phone and text hotline for NHS staff tackling COVID-19. Staffed by trained volunteers from charities including Hospice UK, the Samaritans and Shout, it will offer support and advice for the pressures faced by staff throughout the pandemic. To contact the NHS helpline, phone 0300 131 7000, or text FRONTLINE to 85258.
In order to support the psychological wellbeing of healthcare workers, it has also partnered with Headspace, UnMind and Big Health to offer a suite of apps free of charge. These include:
The British Psychological Society has produced a guide for leaders and managers of healthcare services. It aims to support individuals and teams during the active and recovery phases of responding to COVID-19. The guide offers practical recommendations for how to respond at individual, management and organisational level. It can be downloaded here.
Feeling anxious in uncertain times is normal
Dr Ellie Atkins, clinical psychologist at St Georges Hospital, has produced a video that explains anxiety and how it arises. She also outlines a number of tips on how to manage feelings in these difficult times. While created specifically in response to the Coronavirus outbreak, it is relevant to managing all forms of anxiety.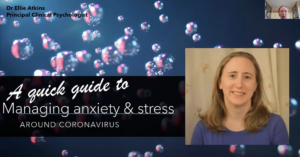 Dr Atkins has also developed a series of short videos to help healthcare professionals through the COVID-19 crisis. Each is available on YouTube and contain links to further support.
Coping with tiredness and fatigue
Psychological states, such as stress and anxiety have been shown to be linked with tiredness and fatigue. In this article Sarita Robinson and John Leach explore the fatigue we may be feeling and its link to the psychological impact rather than the physical burden. They offer some useful tips for overcoming it, particularly for those who are working from home during the current lockdown.
Some people may find that mindfulness and guided meditation is helpful. Mindfulness is about paying more attention to the present moment, to your own thoughts and feelings, and to the world around you. Many believe it can improve mental wellbeing. Further details are available here.
Some examples of online mindfulness and meditation are available from Headspace, which also offers a link to guided meditation, and the Mindfulness Association.