I was invited to be part of an international faculty at a Pan Gulf meeting on bleeding disorders which was hosted in Saudi Arabia. I was asked to run a one day nurses workshop. So there was dilemma one – was it safe to go to Saudi as a woman on my own? With advice from female members of WFH I concluded that it was so I agreed, still with some trepidation.
I had to wear an abaya ….and where to buy one of those, that didn't cost a fortune, given I would only wear it once?… Yet again, Kenya came to my rescue when I bought an abaya from a seamstress I know for 'only' £30 – she says I can take it back and she will buy it back off me ….we will see!
I board my flight in my usual western gear. As we come in to land I'm told to change into my abaya (I'm the only woman in my section of the plane). I put it on and feeling like I'm leaving behind my usual self, I stepped foot onto Saudi soil in my flowing black outfit.
At passport control I'm met by rows and rows of young men wearing checkered red and white Keffiyeh (head coverings)- it looks a bit intimidating. 'Why are you here?', 'have you been to Saudi before?'… but each of them were quite charming with a lot of smiling and 'welcome to Saudi-ing'. I was then met by the 'hospital representative to the airport' who organised my transport and made me tea – because I was 'a British lady.' So far, not so bad!
Outside I was met by banks of London taxis in the rank…but all left hand drive. A bit like being at home…then we hit the roads… it was now after midnight. It soon became apparent that the drivers were all saving battery power for their horn beeping by never indicating. They drive fast and furious!
One thing struck me – despite all my contacts so far being men, not one had offered to carry my bag – no offer of help – even to load my suitcase into the boot of the car…culturally interesting!
The next day was the workshop. After having breakfast and being directed where to sit by hotel staff (discretely the western part of the restaurant). I had to walk more slowly than normal – there were marble floors everywhere and my abaya was too long and getting tangled in my legs – already more ladylike – or hindered by clothing?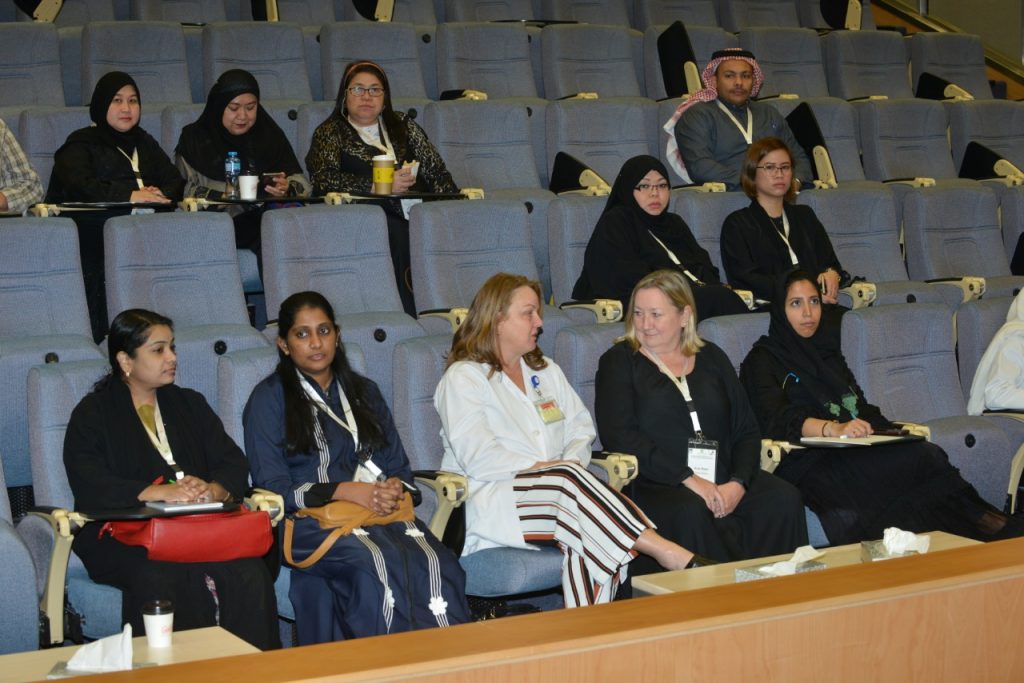 The audience were mostly women, who had their heads fully covered, many were veiled…it was hard to see the non-verbal feedback you usually get when teaching. Yet there were amazing Arabic smiles and hospitality and prayers- (too) much food, gifts and shukran (thanks) all round.
The second day was an MDT event. John Pasi arrived in the usual work suit – we all went out to a cultural dinner, Pasi in shirt & trousers, then me in my abaya, melting in the heat of outdoor Arabia. We left for the airport together…ladies ushered though the queues at security into a ladies only area to lift their abaya and show what was underneath!
Finally I'm back on BA and my abaya comes off – I have grown strangely fond of it! In many ways it was strangely liberating…it hides a multitude of sins. It doesn't matter what you wear underneath, clashing colours, the same clothes again – it had become a comfort and protector.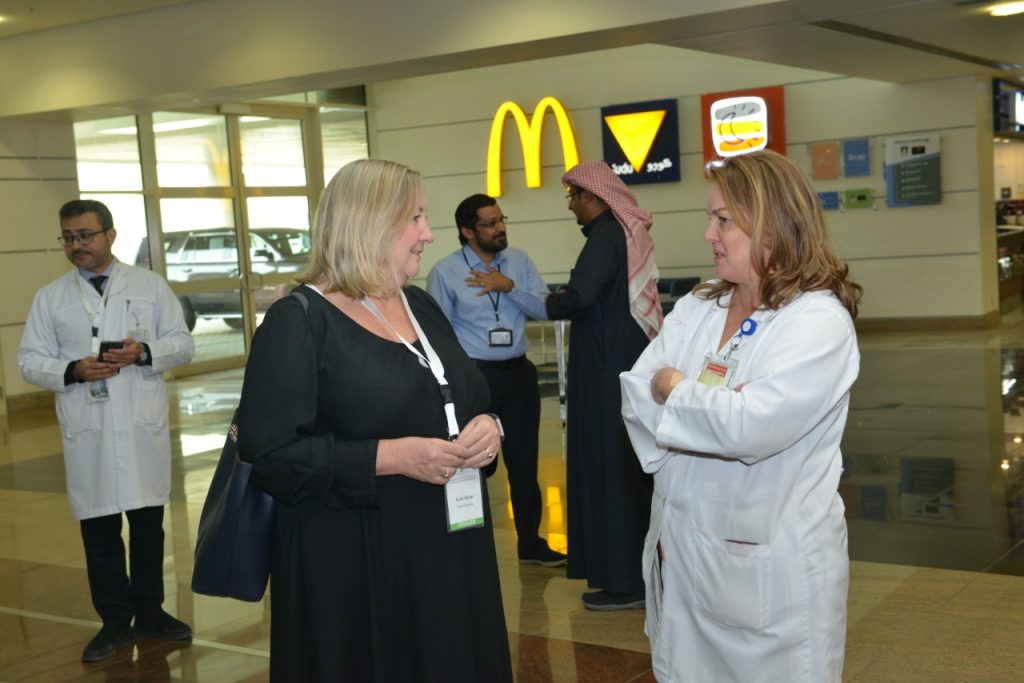 The strict religious Saudi Arabia that I had expected wasn't there. American influence was everywhere to be seen – The Golden Arches, Starbucks and Krispy Kreme. Western women could go with their heads uncovered, younger Saudi women were unveiled, with abayas unbuttoned and no longer just black – there were many colours, fabrics and adornments. Fashion statements through and through. These women predicted that soon they will be able to go outside with their heads uncovered – they had just been granted permission to drive – Saudi is changing.
It may not be top of your list for a holiday, but it is certainly worth visiting if you get the opportunity…and a visa, but that's another story!