Meeting again in person at EAHAD
The Haemnet team has always found the annual EAHAD congress to be one of the most fun and sociable meetings in the bleeding disorders calendar. We've missed being there in person over the last couple of years, so we were pleased to refresh old acquaintances and make new friends in Manchester last week. With four days of scientific sessions, meetings, and the occasional creativity-boosting beverage, it was the perfect opportunity to introduce our newly expanded team to the community.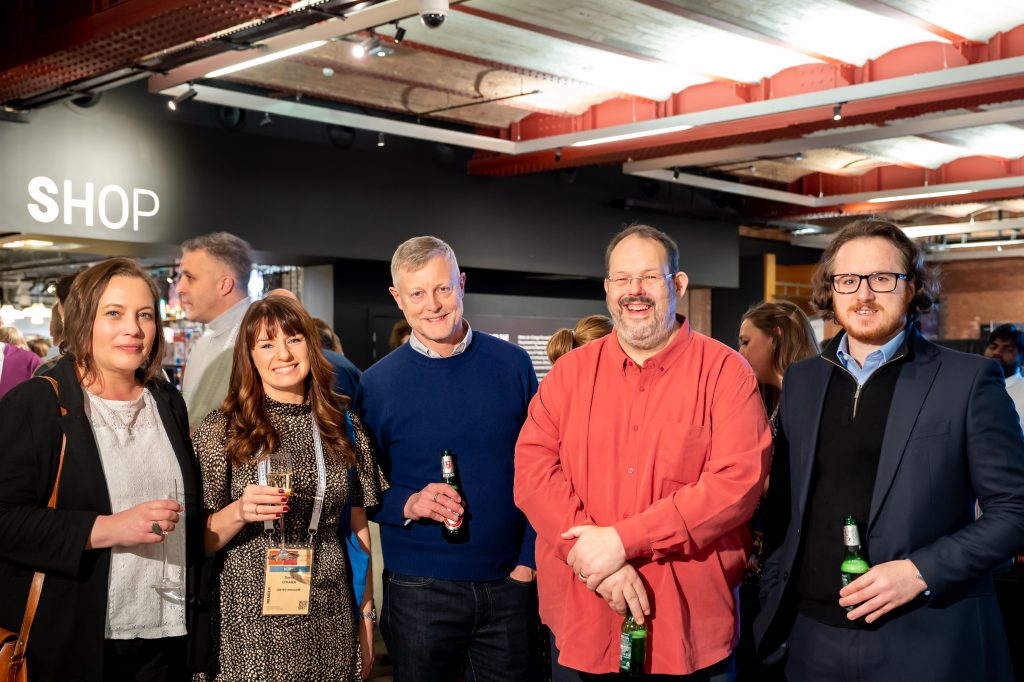 Photo by Simon Callaghan
Moments in the spotlight
Haemnet rarely attends a congress empty handed. This year we presented the latest data from our Glanzmann's 360 study, which focuses on the real-life experience of people living with this rare condition. As well as showing a poster, Kate talked through our findings at the Allied Health Professionals day. It proved a great talking point and has resulted in an immediate boost to recruitment numbers!
Kate also took part in the CSL Behring symposium on the evolving patient-centric journey in haemophilia gene therapy (pictured, below). Referring to findings from our Exigency study, which explored the real-world experience and impact of haemophilia gene therapy, Kate spoke about shared decision-making and the role of the multidisciplinary team.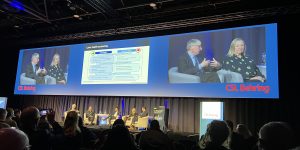 Meanwhile, Simon was busy in the Pfizer symposium discussing patient choice in the evolving haemophilia treatment landscape. Also focusing on gene therapy, he talked about health literacy and what this means for patient conversations.
Continuing a theme, it was great to see the haemophilia gene therapy patient pathway map created by Declan Noone being shared and referenced in more than one session. Kathryn helped develop the map for a recently published paper in The Journal of Haemophilia Practice, in which Kate and Luke are also co-authors.
Moments of reflection
Of course, there was plenty to think about too. The opportunity to hear about the latest science from leading experts is always a big draw for EAHAD, but opportunities to talk and meet bring an additional, very special dimension to the congress.
For Kate, hearing from allied health care professionals about the work they're doing was a big highlight: "I was delighted to see nurses presenting audit and research in their slam sessions – all were really good and could be published (no pressure, ladies!). Congratulations to slam winner Cecilie Maria Lüthje Clausen for her national cross-sectional study of adherence in haemophilia and vWD. I couldn't make it to the physio slam but that also looked great – I'm looking forward to catching up with everyone who presented soon."
"One of the AHP physio track sessions, looking at joint bleed recovery, was a particular highlight for me," says Luke. "We need to reduce joint bleeds in 'well treated' individuals, but also think about follow-up care. Overall, I think everyone in the team welcomed being at EAHAD in person this year. I had plenty of those insightful hallway conversations between sessions that you just can't replicate online, and I think we're all feeling positive and motivated about working on some exciting projects this year."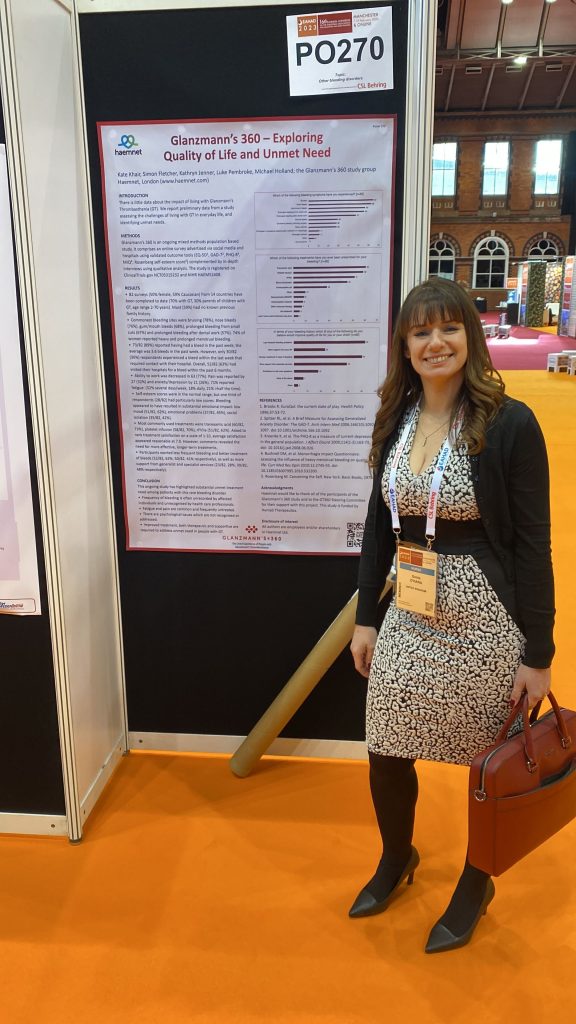 Simon's focus was very much on future treatments: "EAHAD remains one of the best conferences for people working in bleeding disorders care. The scientific content was top class, as usual, and gene therapy was an important feature. For me, though, the highlight was the future treatments session and, in particular, the possibility that people with von Willebrand's may soon have a treatment that prevents bleeds."
Kathryn had never attended an EAHAD congress before: "It was fantastic to meet so many people I'd only ever spoken with via Zoom or email. My mind is buzzing after hearing so much about what's going on with treatments for haemophilia and other bleeding disorders at a time of real change. I also hope some of the brilliant posters on show might be submitted as papers to our journal."
Sam was enthused by future possibilities: "So many of the conversations I had were around how we identify unmet needs and finding ways of really working in partnership with people with bleeding disorders to come up with solutions. There's also a lot of excitement about the role digital technologies will play in this, as well as exploring possibilities rather than avoiding risks – it's all very positive."
"There was such a great buzz about EAHAD this year," says Sonia (pictured). "One thing that really struck me is just how passionate stakeholders across the bleeding disorders community are. The saying 'standing on the shoulders of giants' springs to mind, and it speaks volumes that our community giants are so present and active in the advances we're seeing at the moment. I'm very excited about the direction bleeding disorders research is taking."
"Meeting with our friends from the European Haemophilia Consortium was a special moment for the team," said Mike. "Over the past year or so, we've worked more closely with the EHC, providing publication support to various initiatives. Amanda Bok has done so much to develop and support the bleeding disorders community. She's stepping down as EHC's CEO and it was sad to think that EAHAD marked possibly our last meeting with her – but we did have the most fascinating conversation about socks! We wish Amanda well in her future career."
Connecting and collaborating
Every member of the Haemnet team played an active role in meetings, whether with industry clients or patient associations (and frequently both). We're looking forward to many fruitful collaborations to come.
If you would like to get in touch, please contact us at publishing@haemnet.com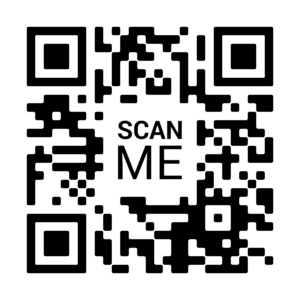 Scan the QR Code to follow us on Social Media
Manchester Central Convention Complex image: Shutterstock/SAKhanPhotography